Do you want to create a website but don't know where to start?
If so, you're not alone. Many people want to create a website but are intimidated by the process.
The good news is that you don't need to know how to code to create a website.
With Dorik, a no-code website builder, you can create a professional-looking website without coding knowledge.
In this guide, we'll show you how to create a website with Dorik, step-by-step.
We'll cover everything you need to know, from choosing a template to adding content and customizing your website.
By the end of this guide, you'll have the knowledge and skills you need to create a website that's both professional and result-driven.
Let's get started!
How to Create a Website Step-by-Step
Using Dorik is the most convenient way to build your website. Because it will save you time and a few extra bucks as you don't have to hire a web designer. Plus, it requires no other technical knowledge or skills.
So, let's start building your website.
Chapter 1: Preparation Before Creating Your Website
Before starting to build a website, you should have solid preparations. It will make the journey smooth. So, consider the following factors to avoid any inconveniences.
i) Identify the Types of Website You Want to Create
Creating a website becomes much more manageable once you identify the type of website you want to make. There are many different types of websites, each with its unique purpose and audience.
Now, we will go through some of the most common types of websites and their respective purposes, so you can choose the one that fits your needs best.
Health & Wellness Website
We hope you have better understood the various websites you can create. So, it's time to jump on to the next step.
ii) Register a Domain Name
Choose a domain registrar to register your domain name and check if your desired domain name is available. Once you find an available domain name, select the registration period and provide your personal and payment information.
When selecting a domain name, consider brand-ability, memorability, simplicity, and relevance factors.
Chapter 2: Creating and Designing Your Website with Dorik
Are you interested to learn how to create a website with Dorik? Follow the below steps to build your own website.
Step 1: Create an Account
Visit Dorik, the most user-friendly website builder, as it is the first step of your website-building process.

Head to the Sign-Up button and click on it.

Follow the on-screen instructions to complete the sign-up process.

Alternatively, you can click on the "Try Dorik Now" button to explore the website builder before committing to signing up.
However, note that you must be logged in or signed up to publish your site. Therefore, we recommend completing the sign-up process to ensure you can publish your website.
Most importantly, if you can not continue customizing your website for any reason after signing up, you can again easily access your site at any time by simply typing app.dorik.com or (your website name).dcms.site/dashboard on the address bar of your browser.
Step 2: Pick A Built-In Template
You will be redirected to the Dorik Dashboard after completing the sign-up process. You can manage all of your other website creation projects from this central hub and access the website settings.
Dorik offers two different website-building options: Dorik Classic and Dorik CMS. You can build static sites using Dorik Classic. On the other hand, Dorik CMS provides more flexibility for managing and updating content.
Navigate to the Dashboard and select the Dorik CMS option to begin building your website using Dorik CMS.

Click the "Create a New CMS" button to access your starting point.
After accessing the website builder, you will be presented with a variety of

professionally designed templates

to choose from. Once you have identified a template that suits your needs, click the "

Preview

" button to explore it further.

If you are satisfied with your selection, click the "Select" button to proceed.
In addition to selecting a pre-designed template, Dorik also allows you to import JSON files or start from scratch with a completely custom web design.
However, for this guide, we will not be exploring these options. Nevertheless, feel free to explore these possibilities at your leisure.
Once you have selected your desired template, a pop-up window will appear, prompting you to set a title for your project and a domain name for your website.

Please note that if you use the free version of Dorik, your site's URL will be ".dcms.site" by default. It is a free domain name provided by the builder at the time of site creation.
However, if you upgrade to a premium plan, you can add a custom domain through Dorik, the easiest website builder. After entering the necessary information, click on the "Create" button.
Congratulations!
Your website has been successfully created, and you will now be directed to the Dorik CMS Site Dashboard. It's essential to take the time to examine each element and feature of the drag-and-drop interface to optimize your workflow. The left-sidebar editing panel is crucial since it contains all the options required to customize your site.
For instance, the Team Collaboration feature allows you to add multiple team members and collaborate with them on various tasks related to your small business website. Additionally, the Membership option enables you to offer exclusive features or services to your customers and even control access to your website content.
Another noteworthy feature is "COLLECTIONS." Depending on your needs, you can either use the default collections or create custom ones to save time and efficiently make any necessary changes.
Once you are OK with all the features and options, click the "Launch the Builder" button to start.
Step 3: Start Editing Your Website: An Overview of Dorik Editing Panel
Once you've launched the builder, you can customize your website. Before making any changes, we recommend familiarizing yourself with the editor user interface.
You will find various options at the top of the editor, including Page Settings, Device Responsiveness Checker, Undo, Redo, Version History, Preview, Save, and Publish buttons.
The left-sidebar editing panel features Pages, Global Settings, Site Settings, and Navigation Tree. We encourage you to explore each option on your own to become comfortable with the available customization tools.
You can edit, add, drag and drop, and delete any element. You need to hover your cursor over any specific part, and the builder will provide you with all the options.
Step 4: Create an Engaging Home Page
The Homepage sets the tone for the entire website and provides visitors with an overview. It is often referred to as the "front door" of a website because it is the main entry point for users. Therefore, the Homepage is crucial in creating an excellent first impression and engaging your audience.
Your website's Homepage should be visually appealing, easy to navigate, and provide users with a clear idea of what they can expect to find.
Tips to make your Homepage an effective one
Attention-Grabbing Header: As the initial point of contact with your website, the header holds significant importance in captivating and retaining visitors' attention. Therefore, it should be visually appealing and intriguing. Therefore use a clear, concise tagline that summarizes what your website is about and draws visitors in.

Straightforward Navigation: Ensure your navigation menu is easily accessible and clearly labeled. Visitors should be able to find what they're looking for quickly and easily.

Visual Elements: Incorporate high-quality, visually appealing images and graphics representing your brand and adding interest to your home page. These could be photos of your products or services, your team, or even custom illustration.

Compelling Content: The content of your Homepage should explain what your website is about, what problems it solves, and how visitors can benefit from using it. Use bullet points, headlines, and subheadings to break up the content and make it easy to read.

Call-to-Action: To guide your visitors toward the desired action, it's essential to have a clear and compelling call-to-action (CTA) prominently displayed on your home page. It could be to sign up for your email list, book a consultation, or purchase.

Social Proof: Introduce social proof such as customer testimonials, reviews, or case studies on your home page to build trust with visitors and showcase the value of your products or services.
Every template of Dorik includes a professional-looking homepage. You can customize it, or create another page and then make it the home page.
To create your Homepage in minutes, click the Pages icon from the left-sided editing panel. You will land on the pre-build Homepage of the template. Now, customize it depending on your necessity.
However, if you want to make a different web page as your Homepage, select your preferred page from the list and click on the "Home" icon.
However, you can also create winning landing pages with Dorik.
Step 5: Include Other Pages and Sections
In addition to the Homepage, your website should have other pages and sections that provide more information about your brand or business.
The number of pages may vary depending on the purpose of your website. Sometimes, you need to create multiple pages for various purposes to increase the authenticity of your website.
How to Add New Pages to Your Website
Navigate to the "Pages" option from the editing panel and click the "Add New Page" button. A blank web page will be added instantly.
Name your page. You don't have to worry about creating the slug, as the system will populate it automatically. However, you can also edit it.

Check mark the Published box to make the page public. Uncheck it if you want to keep the page private while customizing it. Thus you can Save the Page as a Draft. It is a fantastic feature of Dorik.

At last, hit the "Save" button.
But remember, there is no section or element on the newly created page. So, next, we will add sections and elements.
How to Add Sections and Elements to the Page
Click the "Add New Section" button on the newly created page.
A pop-up window will show up, permitting you to pick a section from the Section Library, Custom Section, Section Symbols, and Saved Sections. Select your preferred one from the available options.
After adding sections, you can include different elements on your page, for example, Heading, Text, Image, Button, Video, Contact Form, Link, Social Icon, Progress Bar, Airtable Elements, etc. Pick as many elements as you want and customize them to your needs.
Additionally, you can duplicate any sections, elements, or cards just by right-clicking on them. Most importantly, you can also save them as Collection or Symbol. It will save you time as you can use them on any other part of your website.
Finally, after customizing your page, hit the Page Settings option from the upper-left corner of your screen. Include the Page Title, Description, Language, etc., under the BASIC settings. Similarly, you can explore PAGE META and ADVANCED features. PAGE META allows you to add SOCIAL MEDIA META, SEO META, and Schema.
Here are some must-have pages and sections that your website should have:
About Page
The About page should tell visitors who you are, what your business does, and why you do it. This web page should also provide information about your team, mission, values, and business history. Sharing information about your business can help you build trust and credibility with potential customers.
So, it would be wise to explore some examples of About Us page to develop a better understanding.
Contact Page
The contact page is where visitors can find your business contact information, such as your phone number, email address, and physical address. Making it easy for visitors to contact you is vital as it can lead to new business opportunities.
To learn more about creating contact pages, read the following blog page.
Service Page
This page should provide details about the services or products your business offers. It should be informative, easy to navigate, and highlight the benefits of your services or products. Including customer testimonials and reviews can also help establish credibility.
You can take inspiration for creating your service page from the following blog post.
Inspiring Service Website Examples
Testimonials Page
Testimonials from satisfied customers are an excellent way to showcase the quality of your services or products. A testimonials page can provide social proof and help build trust with potential customers. Therefore, ask for testimonials from your customers and show them on your website.
A Blog Page
Creating a blog page for your business website can be a powerful tool for establishing your industry expertise and gaining authority in your niche. It provides a platform to share valuable content, insights, and updates. This page can also help SEO by delivering fresh content for search engines to crawl. Take your blogging experience to the optimum level by using the Dorik CMS platform.
A General FAQs Section
Frequently Asked Questions (FAQs) can provide site visitors with quick answers to common questions. It can help reduce the number of support requests, improve customer satisfaction, and provide valuable information to potential customers.
However, if you intend to create a one-page website, choose a template with a single page with convenient sections and elements and then modify them to make your site unparalleled.
Thus, you can create web pages and customize them.
Step 6: Personalize Your Website's Navigational Structure
Your website's navigational structure should be simple, intuitive, and easy to use. It should help your visitors find the information they need quickly and easily.
Tips to construct an effective navigational structure for your website
Keep it simple: Don't overwhelm your visitors with too many menu items or submenus. Keep your navigation straightforward and easy to understand.
Use descriptive labels: Use clear and concise labels for your website menu items that accurately describe the content on the page.
Prioritize your web pages well: Decide which web pages are most important to your business and place them prominently in your navigation. It may include your Homepage, about page, services page, or contact page.
Use drop-down menus sparingly: Drop-down menus can help organize subpages but can also be overwhelming and challenging. Therefore, utilize them moderately and only when necessary.
Include a search bar: A search bar can be helpful for visitors to discover what they are looking for quickly.
So, to give your visitors a better browsing experience, personalize your website's header and footer sections.
Let's go over the steps!
Customize the Header
The header of a website is the top section that appears on every page of the site. It typically includes a logo or site name, the main navigation menu, and sometimes a search bar or additional links.
To tailor your website header, follow these steps:
i) Set the Logo
Your website's logo should be placed prominently in the header. It helps with branding and makes it easy for users to identify your website.
Go to the Homepage of your website from the editing panel and click on the header section.

Once you click on the 'Header' section, the builder will open a pop-up modal, allowing you to make changes.

So, replace the default logo with your own. If you don't have a logo yet, it would be better to get one designed.

Add the Logo Alt text and URL. After that, adjust the Width.
ii) Arrange the Navigation Menu
The navigation menu should be easy to find and use.
Let's do it!
Find the option from the editing modal and click the "+" icon beside it. You will see all the menus available on the site.
Hit the drop-facing arrow of each item to expand all the options. Execute the necessary modifications depending on your necessity. If you need more Menus, click the Add New button and customize it.
iii) Place the Call-to-action buttons
Depending on your website's goals, you should include call-to-action buttons in your header. These buttons can encourage users to undertake specific actions, like purchasing or signing up for marketing newsletter websites.
For example, if you want to add contact information, navigate to the Buttons option and add Button Text, Link Type, Hover effect, Background color, etc.
iv) Style Your Header
Move to SETTINGS & BACKGROUND option.

Enable the Sticky Navigation option if you wish to keep the header fixed to the top of the page as visitors scroll down, making it easy to access important information at all times.

At the same time, you can also add a background color to the header to make it more attractive.
Handy Tips: Dorik offers amazing Home/Hero sections. Just take one and do slight customization as you need. It will relieve you from designing hassle and, at the same time, save time.
Optimize the Footer
The footer is a vital part of your website, and optimizing it can significantly impact user experience and search engine optimization.
Some tips on optimizing your footer:
Keep it Simple: Your footer should be clean and straightforward, with only the necessary information.
Include Navigation: Add links to the most helpful pages in your footer to help users find what they're looking for.
Incorporate Contact Information: Adding contact information, such as your email address or phone number, can help visitors reach out to you quickly.
Add Social Media Links: Including links to your social media profiles can help visitors connect with you on other platforms.
Copyright and Privacy Policy: It's safe to have a copyright notice and privacy policy in your footer to protect your website.
There are many pre-designed footer sections in Dorik. Pick one to save time and effort.
Besides, you can read the following blog to gather inspiration for creating an effective footer section for your website.
Step 7: Add Visual Elements to Your Website
Adding visual elements to your website can significantly enhance the user experience and engagement with your content. Images and videos help break up long blocks of text and make the content more digestible.
According to a report by QuickSprout
Compared to just text-based content, visual content receives 94% more views.
Therefore, incorporating visual elements can help your website stand unique. At the same time, it will leave a lasting impression on your visitors.
So, let's add some visual elements to your website using Dorik, the best no-code website builder.
Favicon
A favicon is usually displayed in the browser's address bar, next to the page title, and in the browser tabs. It acts as a visual illustration of the website and helps users quickly identify and distinguish it from other open tabs or bookmarks. It can be an image, logo, or even a letter.
Follow the below instructions to add a favicon to your website.
Expand the Favicon and Social Media Image options.

Update your preferred settings.
Logo of Your Site
A logo visually represents your brand or company, often with a unique symbol, emblem, or wordmark. It is an indispensable element of a website's visual identity and can help create a lasting impression on visitors.
We have already shown how to add a logo to your site in the Header Customization section. So, we are skipping it now. Please check back if you need.
Image
You can add images to your website using the Image element. Follow the instructions to add, shape, and customize an image on your website.
Click on Add Element in an empty row and section.

Select Image From the General Elements section.
Upload or embed an image using an URL to your element from the Image Option feature. You can also change the alignment or add links to your images.

Then resize your image with options like changing its width, height, and position and giving it Fit under "Image Width and Height."

After that, change the contrast, brightness, and many more from "Filters."

At last, customize the background of your image if you want.
Gallery
Another visual element you can add to your website is a gallery, which is a collection of images displayed in an organized manner. Adding a gallery to your website can be a great way to showcase your products, services, or portfolio.
Video Content
According to a report by Cisco,
82% of Global Internet Traffic in 2022 Came From Video.
Video content is highly significant for websites as it can increase engagement and improve SEO. Studies show that websites with video content can increase user engagement, resulting in longer time spent on the site and increased conversions.
With Dorik, one of the best website builders, you can easily attach or embed any video to your website using the Video element.
Step 8: Set Typography, Fonts, Background Style, and Color
Click on Global Styles from the left-hand editing panel. A pop-up modal will show up.

Now, change your website's Background Style, Color, Typography, fonts, etc.
Step 9: Integrate ANALYTICS, Payment, CHAT & MARKETING Tools into Your Website
The right tools can be precious for your website. Therefore, we'll show you how to integrate the primary tools into your website. Let's do it!
Click the Site Settings gear icon from the left-sided editing panel.

Now, hit the INTEGRATIONS tab. Add Google Analytics ID, Google Tag Manager ID, and Hotjar Site ID to your website from the ANALYTICS option.

Similarly, add

Crisp.Chat Website ID, Intercom App ID, and Facebook Pixel ID

from the CHAT & MARKETING option.

You can integrate Paddle from the PAYMENT CONFIGURATION option if you need a payment system. Besides you can also add Payment Buttons to your website as elements.
Marketing Automation With Dorik
Marketing automation is software that handles routine marketing tasks without the need for human action. Common marketing automation workflows include email marketing, behavioral targeting, lead prioritization, and personalized advertising.

HubSpot
From email campaigns to social media management, marketing automation software will streamline your marketing efforts and boost your ROI.
However, by integrating Dorik's Subscription Form, you can automate your email marketing process for your site.
Mainly, subscription forms are used to get information from visitors if they wish to subscribe to your newsletters, depending on the services you offer.
Dorik offers pre-built engaging subscription form templates to simplify your website creation process. Side by side you can also design one from scratch.
Now, we will show you how to add a subscription form template to your website.
Navigate to the place where you want to add the subscription form.

Click on Add New Section.

Pick a suitable subscription form template from Section Library.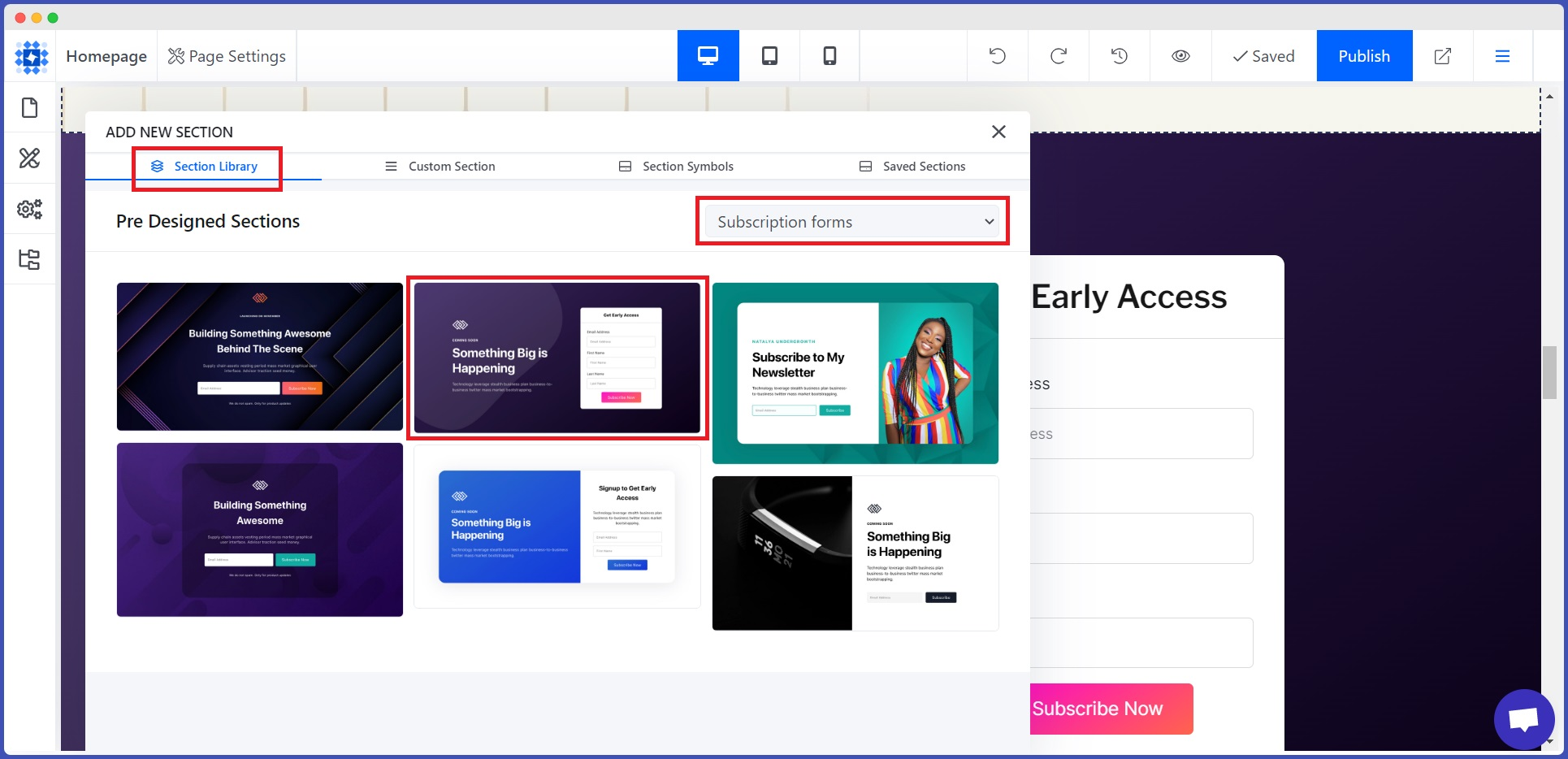 Now, start editing. We suggest picking the API option from the Configuration Type.

Select your preferred email service provider from the Service section under FORM CONFIGURATION. For example, you can choose MailChimp, Get Response, Sendinblue, Convert Kit, ActiveCampgain, and many more.

Then set the FIELDS, Button Text, Style, etc.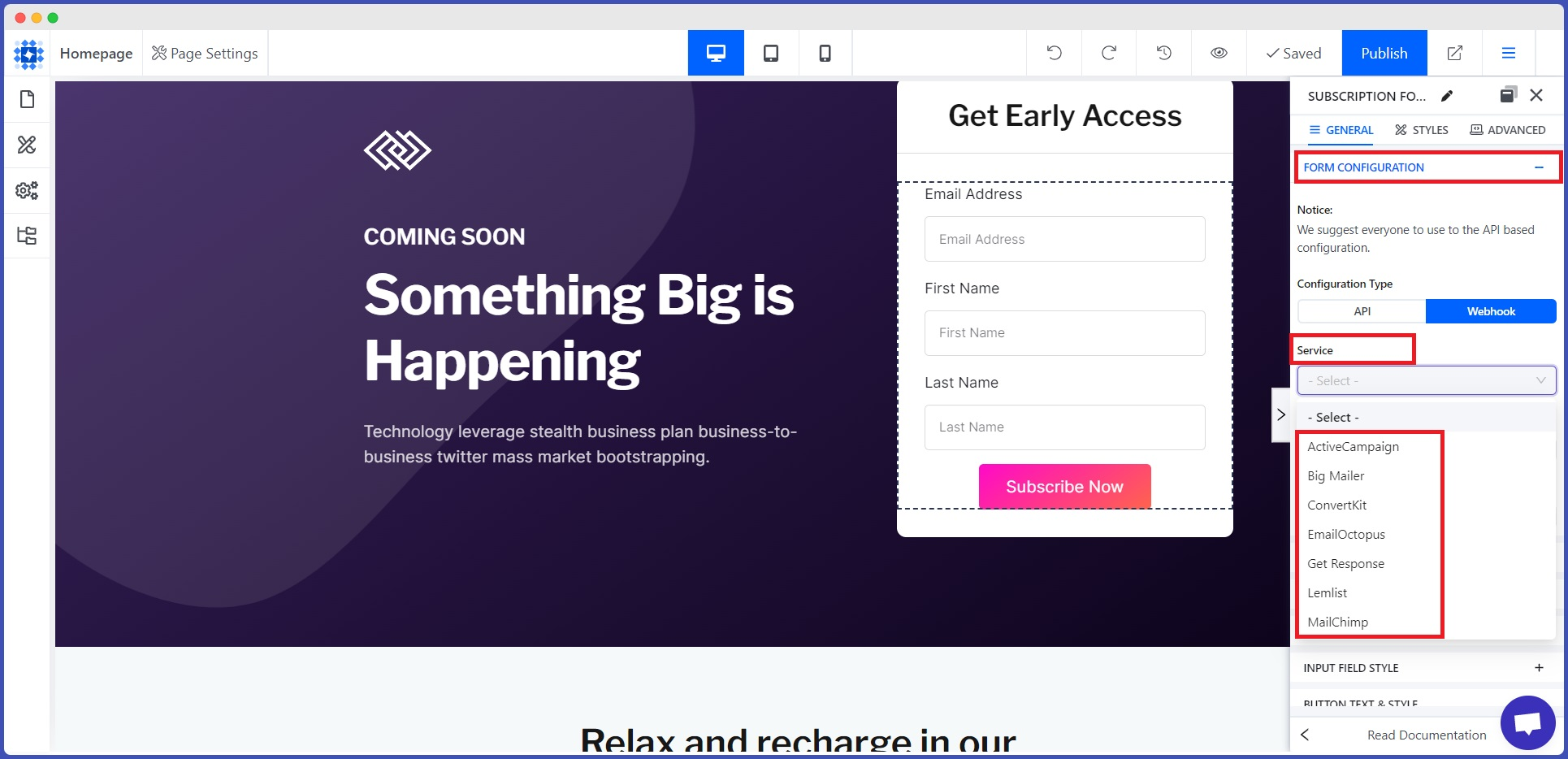 If you are interested to learn more about Email Marketing Automation Software, read the following blog.
Step 10: Enhance Your Website's Features & Functionality by Adding Dorik Custom Collections
Custom Collections is a database that stores information about various topics, categories, and listings. This information can be displayed wherever you want it to appear on your webpage. With Collections, you have the flexibility to create custom fields that define the structure of your content. These fields accommodate various data types, including text, images, links, and numbers.
By using Collections, you can create individual entries or pieces of content called items. Each item comprises the fields you defined and can be tailored to your specific needs. For example, if you have a custom collection item named 'Articles,' you should consider adding fields like Author's name,' 'Article Summary, "Thumbnail,' etc.
This feature gives you greater control over how your content is displayed on your website. Overall, Custom Collections offer a powerful tool for organizing and presenting your data in a structured and user-friendly way.
To create a Custom Collection, follow the below steps.
Go to your Dorik Dashboard.

Navigate to "COLLECTIONS" on the left-hand panel.

From there, click on the "Add New Collection" button. It will show you a pop-up modal with information like Collection Type, Plural Name, Singular Name, Slug, and the Editing Layout.

Click on the drop-down arrow of Collection Type to expand all the default custom collection templates.

Select one depending on your requirement. For example, Article. All the other fields will be populated automatically.

Then, press the "Add Collection" button.
To utilize the magic of Custom Collections, read the following blog.
How to Use Dorik Collections: The Ultimate Guide
Step 11: Test Your Website Before Going Live
Before launching your website, it must be tested to ensure everything is working correctly.
Here are some steps to test your website before going live:
Proofread: Go through all the content on your website and check for typos, grammar errors, and spelling mistakes.
Functionality: Check all links, buttons, forms, and interactive elements to ensure they function correctly.
Responsiveness: Test your website on different devices, including desktop, tablet, and mobile, to ensure it is responsive and displays correctly on all devices.
Speed: Test your website's loading speed using online tools like Google PageSpeed Insights to optimize your website's performance.
Security: Assure your website hosting service is secure and protected against malware and viruses.
Compatibility: Check your website's compatibility with different browsers like Chrome, Firefox, Safari, and Internet Explorer.
Thus, you can ensure that your website, whether a portfolio, personal blog, business, ecommerce website, or online store, is ready to launch and will provide a positive experience for your visitors.
Step 12: Publish Your Website
After customizing your website, you are almost ready to publish it. But before hitting the "Publish" button, you should preview your site by clicking on the "Eye Icon."
Once you have checked everything, you can go live by clicking the "Publish" button. You can then view the live version of your website by clicking on the upward-facing arrow icon next to the "Publish" button.
Take some time to go through your website and ensure everything is functioning correctly. With a live website, you can share it with the world and start growing your business online.
Chapter 3: Post-Publish Activity
After publishing your website, it should be properly taken care of. If you don't take the necessary steps, all of your efforts may go in vain. So, pay attention to your website post-publish activities.
Here are some of them:
Ongoing Maintenance and Upgrades
Once your website is live, you must keep it updated and secure. Please confirm that everything is up-to-date. Regular backups should also be made if something goes wrong with your website.
In addition to that, consider upgrading your website to meet your changing business needs. You may want to add new features or integrate with a new tool. These upgrades will keep your website relevant and help you stay ahead of your competition.
Finally, measuring your website's performance and making improvements as needed is substantial. You can use tools like Google Analytics to track your website's traffic and user behavior.
Promote Your Website
Promoting a website is crucial for increasing its visibility and driving traffic. A website without any promotion is like a billboard in the middle of the desert- nobody will see it.
If you boost your website, you can attract potential customers, build your brand, and increase your revenue. A great website is not enough - you must let people know it exists.
Here we present some ways to make your website visible on google searches. Let's dive in!
Search Engine Optimization (SEO)
SEO is one of the most powerful methods to drive organic traffic to your website. SEO can improve your ranking in search engine result pages (SERPs). It will increase your visibility and attract more visitors to your website. To ensure your website is SEO-friendly, you should focus on keyword research, on-page optimization, off-page optimization, guest blogging, and link building.
As you are using Dorik, most of the technical aspects of SEO are already taken care of for you.
You should optimize your website for local search if you deal with local businesses. Here is a complete guide for you!
Content Marketing
Develop top-notch content that resonates with your target audience. It will drive more traffic to your website and establish your brand as an authority in your industry. It incorporates blog posts, infographics, podcasts, videos, and more.
Therefore, consider developing your content strategy and content funnel so that you can maintain it systematically.
Email Marketing
Email marketing is another powerful tactic to promote your website and stay in touch with your audience. By building an email list, you can send targeted messages to your subscribers and drive traffic to your website. Try offering something valuable to your subscribers, such as exclusive content or special offers.
Hence, you can take email marketing as a part of your marketing strategy.
Submit your site to online directories
Submitting your website to online directories can help you get more exposure and improve your search engine rankings. Make sure to choose reputable directories that are relevant to your niche. This can also help you build backlinks to your website, which can further improve your SEO.
Social Media Marketing
Social media is a crucial tool for promoting your website, enabling you to engage with your audience, increase brand visibility, and drive traffic to your site. By leveraging social media platforms like Facebook, Twitter, and Instagram, you can reach a wider audience, build relationships with your followers, and share content that resonates with the target market.
This, in turn, can result in increased website traffic, higher conversion rates, and improved brand awareness. Social media also allows for real-time communication and customer feedback, which can help you improve your products and services based on customer insights.
Paid Marketing
Paid marketing, such as Google Ads or Facebook Ads, can help you quickly drive targeted traffic to your website. While it requires an investment, it can effectively promote your website and attract new visitors. Direct your ads to your target audience and optimize your campaigns for maximum ROI.
Tools That Can Take Your Website To the Next Level
You can use the following tools to get benefited. They are easy to use and very effective.
1. Canva: Designing Tool
Canva can help you create websites by providing an easy-to-use graphic design tool. You can create visually appealing images, graphics, and other design elements, such as website banners, social media posts, Favicon icons, logos, etc., that can be incorporated into your website.
These graphics can be exported in various file formats, such as PNG or SVG, and used in your website design.
Additionally, Canva allows you to collaborate with team members or clients in real-time, which can be helpful when working on website design projects.
2. Grammarly
Grammarly is an easy-to-use writing assistant tool that can generate grammatically correct, clear, and concise website content.
Grammarly's AI-powered writing assistant can identify and correct grammatical errors, punctuation mistakes, spelling errors, and more. This ensures your website content is free of errors and easy to read.
Using Grammarly, you can also maintain the tone and style of your website content. It makes your brand's voice consistent that resonates with your target audience. Plus, the Plagiarism detection feature will contribute to delivering unique content.
3. Google Marketing Tools
Google offers a suite of marketing tools that can help take your website to the next level by increasing traffic, improving user experience, and increasing conversions. Here are a few ways that Google marketing tools can help:
Google Analytics: It can help you understand how people are interacting with your website. It provides valuable insights into user behavior, traffic sources, conversion rates, and more.
Google Ads: Google Ads is a pay-per-click advertising platform that can help drive traffic to your website by targeting specific keywords and audiences. With Google Ads, you can create highly targeted campaigns, increasing traffic and conversions.
Google Search Console: You can monitor your website's performance in Google search results. It provides insights into search queries, backlinks, crawl errors, and more. Using Google Search Console, you can optimize your website for better search engine performance.
Google Tag Manager: Google Tag Manager will assist you in managing and deploying marketing and analytics tags on your website. It allows you to easily add and update tags without requiring changes to your website's code, resulting in faster deployment times and improved accuracy.
Google PageSpeed Insights: It is another tool that analyzes the user experience of your web page on both mobile and desktop devices and provides recommendations for improving its speed.
4. Chat GPT
You can utilize Chat GPT in various ways while creating and managing your website. Some of them are as follows:
Content creation: Chat GPT can be used to generate content for your website, such as product descriptions, blog posts, landing page copies, and social media posts. By providing the chatbot with information about your brand and industry, it can generate high-quality content that is relevant and engaging for your audience.
Keyword Idea: You can generate keyword ideas and phrases for your website. Thus, you can develop your own content strategy by analyzing this data.
5. SEO Tools
You can use SEO tools to improve your website's ranking and traffic. Here are some popular SEO tools and their benefits:
FAQs on How to Create a Website, Answered
How Do I Build a Website for Free?
There are a few options for creating a website for free. Most website builders, such as Wix, Weebly, and Squarespace, allow you to build a website at no cost. These platforms offer free plans with basic features. However, you must upgrade to a paid plan for more advanced features and a custom domain name.
Another option is to use WordPress to create a WordPress website for free. You must purchase a domain name and web host plan, but the WordPress software is free.
How Much Does It Cost to Create a Website?
The cost of creating a website varies depending on your needs and preferences. If you hire a professional web designer or developer, the cost can range from a few hundred to thousands of dollars. However, the price can be significantly lower if you use a website builder. Most website builders offer different pricing plans based on your needs and budget.
How long does it take to build a website?
Building a website can take anywhere from 30 minutes to several months, depending on its complexity. You have two options: do it yourself or hire professionals. Using a no-code website builder is the easiest and most effective way if you choose to create it on your own.
With a website builder, you simply pick a template and customize it to your liking. This process can be completed in as little as 30 minutes. If you're an expert, it'll take even less time. Additionally, there are impressive website builders with AI functionality that can create a website in just a couple of minutes.
👉 Check details on how long does it take to build a website.
What are the fundamentals for making a website?
The fundamentals of making a website comprise:
Choosing the right website builder or platform.

Designing the website layout and structure.

Optimizing the website for search engines.

It's also essential to consider factors like

process web hosting

, security, and website maintenance.
What are the benefits of having a website?
You will enjoy the following advantages after having a website.
Increased online visibility and accessibility for your business or brand.

Ability to reach a wider audience, including potential customers and clients outside your local area.

Opportunity to showcase your products, services, and expertise through multimedia content.

Enhanced customer engagement and interaction through features such as contact forms, chatbots, and social media integration.

Ability to gather and analyze data on website traffic and user behavior for informed business decisions.

Improved customer service and support through online resources and FAQ sections.

Cost-effective marketing and advertising through search engine optimization (SEO), email marketing, and social media promotion.
Concluding Words
With the right website builder and proper strategy, anyone can make a website in minutes.
Following the steps mentioned in this blog and staying up-to-date with the latest web development trends and technologies, you can create a website that stands out and achieves your desired goals.
Try Dorik today to make a professional-looking website!
Related Reads
How to Build a Personal Website
How to Build a Professional Restaurant Website
How To Create a Photography Website
How to Create a Small Business Website
How to Create an Affiliate Marketing Website
How to Create a Beautiful Wedding Website